The way to a geeky girl's heart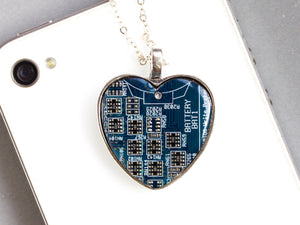 Once upon a time there was a sweet nursery song, do you remember that: "What are little girls made of? Sugar and spice and everything nice. That's what little girls are made of". But after that little girls grow up and become pretty lovely things with a geeky mind, don't they?
Well, you know, there is a sure way to the heart of every unique girl with special taste and techie mind! Our jewelry, both geek and sweet, can become the best present to a modern girl, so lets see what you can find here.
1. Beautiful necklaces made of circuit boards will impress any geeky mind! What about choosing a shiny "@"symbol necklace or a bright Star Necklace covered with clear resin?
2. She will also appreciate beautiful circuit board earrings, such as unique Double dangle earrings or sweet Heart earrings. The earwires are made of surgical steel and are hypoallergenic.
3. If your geeky one prefers studs, you may choose Round circuit board studs, Triangle studs or Square studs. They are so lightweight that she'll never feel them!
4. A circuit board ring is also a great choice! What about a customized double circuit board ring or a circuit board Cocktail round ring?
5. If she loves eye-catching accessories and casual style, consider Wrap Leather Bracelets with interchangable circuit board beads!
6. Circuit board hair clips and hair pins are also a great gift to a geeky girl! Imagine, how impressed she will be, when she discovers what they are made of.
7. If you are not sure about the jewelry she prefers, choose a Butterfly circuit board brooch, which you may find in 8 bright and wonderful colors!
Be sure, all this amazing stuff will surely impress your geeky friend and your gift will touch the deepest part of her heart!
6 Responses
Leave a comment