New Christmas Ornaments in a Great Offer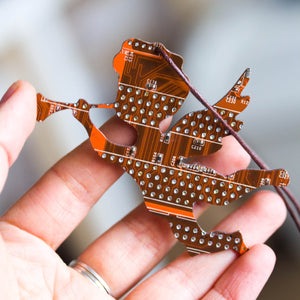 Wow! Autumn has almost gone, it's already the end of October, just a month and a Christmas fever is going to start! We believe that it's really better to get ready for Christmas well before - don't you think so?
So it's time to get prepared to the most fantastic holiday with the most fantastic Christmas decor - the ReComputing new Christmas ornaments. Four new designs in bright colors, made of real circuit boards as usual - you may choose a
sweet Dove
, a
funny Cupid
, a
clumsy Snowman
or a
traditional Gingerbread Man
.
Making a cool and uncommon ornament for your Christmas tree, they are going to become a really wonderful gift for your geek friend or IT team fellow workers.
Introducing new designs, we've prepared a great offer for you to spend less - you may order a
Christmas ornament set
and save up to half of the price!
We believe you'll love new designs as we do - look, they're so cute :)
33 Responses
Leave a comment