Back to School: Best Gifts for a Techie Student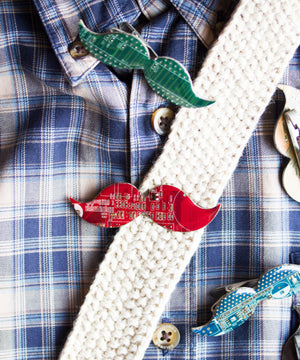 We remember those warm August days with very very special feelings... You are still free, and full of emotions - you will spend just a week or two at home and then you will go back to your college and to a different life - lessons, teachers, best friends and cool parties. We believe that everyone keeps these sweet memories for the whole life.
Well, if now you are looking for a special gift for you dearest one, for a geeky friend or your techie grown-up child, who is on his way Back to School, here you'll find a couple of great ideas! 
What about a great unisex gift, a geeky piece of design - Desk Clock made of a recycled Computer Hard Drive? You can choose it for an IT student or a person who has a special feeling for cool and useful techie things.
Need a cute gift for a geeky student girl? Consider this beautiful Butterfly Brooch or unique Circuit Board Earrings.
Circuit Board Keychains and Keyrings are a wonderful idea of a present. These Custom Initial Keychains are so bright and colorful!
Your recipient is a stylish dapper or a modern girl who adores unusual jewelry? Then Wrap Leather Bracelets with Circuit Board Beads is the best gift imaginable.
If you need a statement gift for an almost graduate, choose these cool Circuit Board Cufflinks or a Tie Clip. These are stylish and uncommon pieces for an outstanding person.
30 Responses
Leave a comment