Father's day gifts for an IT father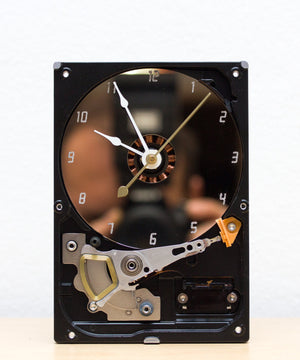 It is always better to think about gifts for your dearest parents in advance, for example for the Mother's day or Father's day. Today we are going to share some ideas of presents for an IT dad or a geeky father, who is fond of gaming.
If your father is an IT specialist, or a techie one, and he works in an office, you can choose a useful and an eye-catching gift - a Desk Circuit Board Clock or a Desk Clock made of a recycled HDD. Be sure, not only your father will appreciate such a piece of decor!
You can also consider such a gift as a Wall clock made of a Recycled Circuit Board for your father's cabinet.
Another great gift for a techie dad is a Photo Frame made of a real Circuit Board. It is a unique piece of decor which will remind your father about the greatest moments of his life.
Although Christmas is still far away, you may also like the idea of Packman inspired Christmas Tree Ornaments! These decorations are good not only for a Christmas Tree, but also make up a great wall decoration. Any geeky father will be inspired by these amazing pieces!
22 Responses
Leave a comment